Our Panel
In each of the Success For Your Songs blog posts, you'll hear from a different member of our expert panel on topics like songwriting, performance, recording and music marketing.
If you'd like to get our latest blog posts send to you in our email newsletter, sign up for our free songwriting cheat sheet, on the right. Below are just some of the panelists you'll hear from in our blog posts.
Write Memorable Songs with an Easy Technique You Learned in Grade School (But Aren't Using)
50% Complete - One More Step!
Enter Your First Name and Email Below So I Can Send You Your FREE Songwriting Cheat Sheet:
We value your privacy and would never spam you
Anthony Ceseri is the founder of Success For Your Songs. As a songwriter and performer who has traveled the country in pursuit of the best songwriting advice and information available, he has used Success For Your Songs as a way to deliver this information to songwriters all around the world. From classes and workshops at Berklee College of Music in Boston, to Taxi's Road Rally in Los Angeles, Anthony has learned from the most well-respected professional songwriters, producers and performers in the industry.
Anthony's writings appear as examples in the book Songwriting Without Boundaries: Lyric Writing Exercises For Finding Your Voice by Pat Pattison, an acclaimed lyric writing professor at Berklee College of Music. Anthony also contributes articles to a variety of other websites, including CD Baby's DIY Musician's Blog, The USA Songwriting Competition's Blog, Muse's Muse, Song Stuff, and he is one of the top contributing diamond-level music authors on Ezine Articles.
Stage Performance + Vocal Training
Steven Memel is an internationally acclaimed voice & performance coach, who's worked with such artists as Maroon 5, Sara Bareilles and Jesse McCartney. He is the creator of, and the energy behind "The Science Of Switching On," a unique and impactful system that enables him to achieve rapid and dramatic results with all performers. He has also taught at Musicians Institute, UCLA, USC and is a regular speaker at seminars, conferences and universities around the world.
Steven is an internationally recognized voice technique and performance coach as well as an award-winning actor and director. He has aided in building the careers of some of the most talented and successful people in the world of entertainment.
Cliff Goldmacher has worked in Nashville as a staff songwriter and his songwriting collaborators include multi-platinum selling artists Chris Barron (Lead singer of the Spin Doctors), Grateful Dead drummer Mickey Hart, Lisa Loeb and Ke$ha. Cliff's songs have been cut by major label artists and in 2010 Cliff's song "Till You Come To Me" spent 27 weeks in the top ten on Billboard Magazine's jazz chart.
Cliff has recorded, played on and produced thousands of demos for Grammy winners, and major and independent publishers. The demos Cliff has recorded have ended up as major label cuts, in feature films and on television.
Cliff also teaches workshops for BMI, ASCAP, The Songwriter's Guild of America, NSAI, Taxi and The Durango Songwriter's Expo. Cliff is a freelance journalist contributing articles to EQ, Recording and ProSound News magazines along with numerous music websites and blogs.
Shane Adams is a Grammy nominated music educator, producer, songwriter, and author. He is president of Artist Accelerator, a music production and artist development company. Shane is also a songwriting and lyric writing instructor for Berklee College of Music. As a music publisher, administrator, and recording studio design consultant, Shane Adams has worked with award winning artists and companies, including Brad Paisley, John Prine, Lyle Love, HBO, Sony, and the Country Music Hall of Fame (where he is also a featured songwriter for their "Words and Music Program").
In 2013, Shane was named the Music Industry Professional of the Year by Chowan University (North Carolina), and in 2005 earned the Tennessee-Songwriter-Association-International's highest honor, the Hallman Award, for his outstanding contributions to the songwriting community.
Interscope recording artist and online marketing expert, John Oszajca, is an in-demand consultant and speaker at conferences and organizations worldwide. John has appeared in Rolling Stone, The Los Angeles Times, Newsweek, Time Magazine, Entertainment Weekly, US, People, The Boston Phoenix, Entertainment Tonight, Inside Edition, Access Hollywood, CNN and many more.
John speaks about the new music business, on and off-line marketing strategies for musicians, social media, performing, songwriting, recording, and the new frontiers of independent music made possible by the internet. He is also an active performing musician.
Keppie Coutts is a Berklee College of Music alumnus who's taught at Berklee's Songwriting Department as well as The Songwriting School of Los Angeles.
Her songwriting has received praise from several impressive sources. Among them, John Mayer has said Keppie's "voice is beautiful, just gorgeous. [She's] like a contemporary female Nick Drake. And [her] guitar playing is so beautiful, so raw."
Click Here for Keppie's Songwriting Website
Click Here for Keppie's Artist Website
Michael Shorr was a songwriting professor with Berklee Music Online, the college's online extension school. He is a graduate of Berklee College of Music with a degree in Songwriting. He has also taught songwriting, lyric writing, music theory, and guitar playing to individual students and bands. He is the founder of Chocolate Strawberry Studios, which is a full-service music and audio creation company.
D Grant Smith is the creator and host of The Appetizer Radio Show, a syndicated media platform heard around the world. With over 15 years of radio experience including station management, Smith provides keen insights into how to grow your fan base using targeted radio airplay. He was named one of the Rising Stars of Radio by Radio Ink Magazine in 2012. He provides a unique insight into building strong fan bases at a local level and using media to expand that connection to music fans interested in growing their music libraries.
Smith also works one-on-one with artists through mentoring and coaching, specializing in core audience growth, marketing, and radio promotion.
Click Here for D Grant Smith's Website
Click Here for D Grant Smith's Radio Show Website
Kevin Thomas is the founder and CEO of Songwriting Planet, which provides information to help songwriters master the craft of songwriting. He is the author of Melody Madness, a book that explores in meticulous detail the myriad ways in which the often-elusive process of melody development can be utilized to improve one's songwriting.
Kevin has a B.A with honors from the prestigious Berklee College of Music, with a dual major in songwriting and music performance. He is also a graduate of the world renowned Musicians Institute, (MI), in Hollywood.
Kyle Kniceley is a composer for film and television whose music has been featured by Access Hollywood, Access Hollywood Live, CBS, the NFL and NBC Universal.  With a focus on emotion, energy and mood, Kyle creates dynamic cinematic and hybrid music.  Along with traditional and modern sounds his work often fuses Electronic, Ambient, Dramatic, Rock, and Pop elements in highly creative ways.
Click Like for Songwriting Tips on Facebook!
Download Our FREE Songwriting Cheat Sheet!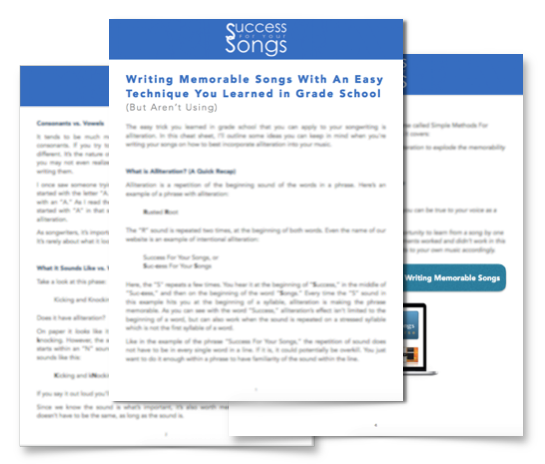 With this free cheat sheet you'll be able to write memorable songs with an easy technique you learned in grade school (but aren't using). It's a method that's as effective as rhyming, if used correctly!
50% Complete - One More Step!
Enter Your First Name and Email Below So I Can Send You Your FREE Songwriting Cheat Sheet:
We value your privacy and would never spam you