Write Memorable Songs with an Easy Technique You Learned in Grade School (But Aren't Using)
50% Complete - One More Step!
Enter Your First Name and Email Below So I Can Send You Your FREE Songwriting Cheat Sheet:
We value your privacy and would never spam you
Fuse Knowledge With Your Passion
to Give You Limitless Ideas
Success For Your Songs is dedicated to providing valuable knowledge to songwriters of all skill levels. Our goal is to provide tools, techniques and theory that will give any songwriter the capability to write, record and perform songs that will easily resonate with their listeners. It's our mission to organize a community where thousands of songwriters can come together to help each another succeed in pursuing their passions.
Songwriters evoke emotion in their listeners through their music. They give us thoughts and stories to reflect upon in their lyrics. And more subtly, they provide the background music for our everyday lives. If not for the contribution and passion of songwriters, life would be silent.
So expect to achieve the music success you've been dreaming about since the first time you smelled the fresh wood of your brand new acoustic guitar, or trickled your fingers down the glossy white keys of your grandmother's piano.
Click the blog tab above for our latest content and don't forget to watch our free 4 part songwriting video series, which you'll find below.
Thanks for checking out our site and good luck with your music!
Anthony Ceseri
Success For Your Songs
Click Like for Songwriting Tips on Facebook!
Download Our FREE Songwriting Cheat Sheet!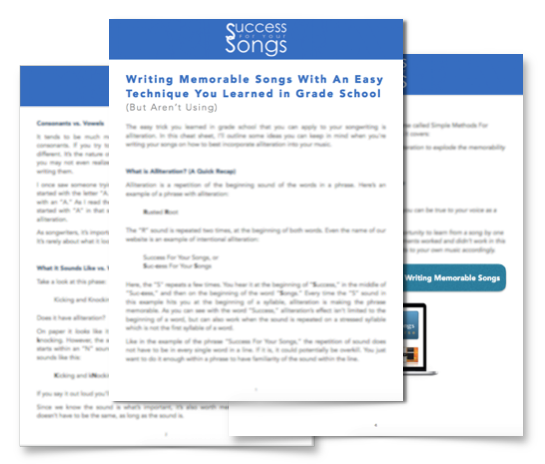 With this free cheat sheet you'll be able to write memorable songs with an easy technique you learned in grade school (but aren't using). It's a method that's as effective as rhyming, if used correctly!
50% Complete - One More Step!
Enter Your First Name and Email Below So I Can Send You Your FREE Songwriting Cheat Sheet:
We value your privacy and would never spam you